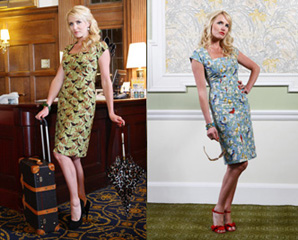 GET CUTIE
Get Cutie is fun, feminine and pretty fantastic. Retro styling in sexy shapes with the added bonus of wonderful playful fabrics sourced from around the world.
Based in the South of England and with manufacturing in the UK, Get Cutie clothing is guaranteed to bring a smile to anyones face. Beautifully cut in various retro styles, Get Cutie really 'cuts the mustard' with their wonderful fabrics with themes ranging from Elvis Presley, flowers and birds to cowgirls and outdoors girls at play, to the macabre and bizarre and kitch, but always fun.
The shapes are very feminine and sexy suiting all shapes especially the curvy figure.
FREE WORLDWIDE DELIVERY
Date - Jan 16th 2018

CORNICHE ONLINE STORE